Setting up our Festival Español
The Festival Español was an exhibition in our Key Stage 2 hall for 3 days open to members of our school and local communities.
For anyone who did not make it, you can take a virtual tour by watching the video below.
We started planning our Festival Español three months before it took place. Before we planned, we considered the purpose, the vision and the success criteria.
We decided the purposes of the exhibition were:
to celebrate what we've done in our first year of teaching Spanish
to excite Key Stage 1 about learning Spanish
to energise the staff
to encourage more language learning
The vision was of an exhibition along the lines of those done by Meadow, Helsby Hillside and St. Bernard's primary schools whereby the school hall was converted into an immersive, interactive exhibition space that clearly demonstrated what children were capable of and allowed each child to see what the other classes had been up to without need for much explanation.
We decided our success criteria would be that the children and other visitors were proud and excited about the exhibition.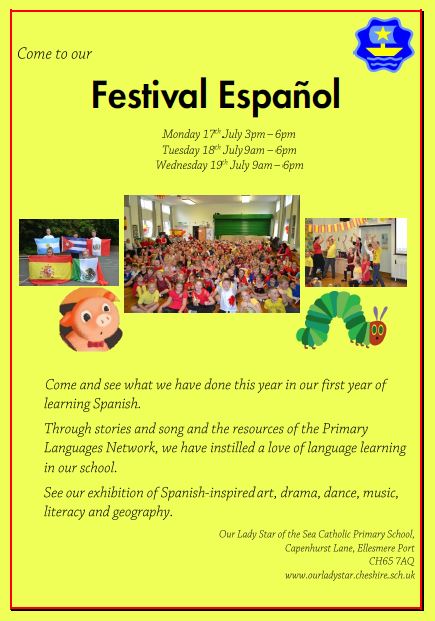 We wanted there to be a roughly equal measure of speaking, listening, reading and writing activities on show and on offer. Although we didn't have each in equal measure we did have aspects of each on display and we know that visitors had to read, write and listen to fully engage with the interactive displays.
It took a lot of planning and a lot of work but it was well worth it in the end; it was a fantastic way to demonstrate to the children just how much they had learnt in the year and it showed them that they are all capable of learning and speaking a foreign language with confidence. We had about 600 visitors to our exhibition – current pupils, former pupils, parents, grandparents, lunchtime staff, cleaners, teachers and staff from other schools and other relatives and friends of our school community all spoke about the exhibition in glowing terms and I think everyone was impressed. I think the children have surprised themselves by how much they have improved in speaking Spanish this year.
How we organised the exhibition
We split the hall into four quarters and each year group was responsible for a quarter of the hall. Each year group then decided on a Spanish-speaking country to study and we interspersed the children's writing about this country (done in English!) with the Spanish work we had done this year on introductions and greetings, numbers, colours, dates, animals, food and playground games (all taken from the Primary Languages Network).
For all of our lessons in Spanish this year, we have used the resources of the Primary Languages Network. By and large, the displays in the exhibition were adaptations of these resources but we did diverge slightly in that each class chose a different aspect to focus on and one of the classes performed our adaptation of 'La Pequeña Oruga Glotona' (more on this later!) while another performed 'Los Tres Cerditos' from thespanishexperiment.com
QR codes
We gave visitors iPads and headphones and instructions on how to use the QR readers we had installed. Putting QR codes that linked to our school YouTube and school Vimeo channels was a really easy way of ensuring visitors got to see the videos we had made without having computers and wires trailing all over the hall floor. One problem we found was that we ran out of iPads when we had lots of visitors (usually around 9am and 3pm). If we were to do this again, we'd make sure we have enough iPads to cater for more visitors. We also found that pop-ups had to be blocked when using the free QR reader that we had on our iPads. This sounds simple enough but involved messing with permissions on the server and was quite troublesome.
The displays
Los Paises Hispanohablantes
We made a 3 metre by 2 metre map of Spanish-speaking countries out of expanding foam. Our Year 6 children then painted the map using brusho for the sea and acrylic paint for the land. We invited visitors to label each of the Spanish-speaking countries with the Velcro-backed labels we had made. We realised this was pretty hard for most visitors so we put quite a few of the answers on there so that visitors only had to identify the more widely-known countries!
¿Cuando es tu cumpleaños?
We wanted a way of counting how many visitors we had to our exhibition so we devised a display where visitors had to put a counter into a container for the month of their birth. This was the first thing people saw as they came in. Visitors had to read the months of the year in Spanish and work out (if they didn't already know) what the name of their birth month was in Spanish.
We used some recordable speech bubbles to record some of our Year 6 children introducing themselves and their birthdays. Visitors had to listen to what the children said and then match the birthday with the person. This worked well when it was quiet in the hall but not so well when there were lots of people there. If we were to do this again, we'd find voice recorders that were louder.
Mi Color Favorito
In order to get visitors to our exhibition to do some writing, we asked them to write down what their favourite colour was in Spanish. We had prepared hundreds of little cards in the shape of paint tubes with the sentence starter "Mi color favorito es…." and visitors had to do the rest. The names of the colours were on the tubes hanging from the top of our climbing frame. This helped visitors who were unsure how to spell the words. Once they had written the name of their favourite colour, they placed it in the correct paint tube. After the exhibition had finished, we counted up which was the most popular. The favourite colours of our visitors were azul and rosa.
Our Year 6 children had gone a step further and said why their favourite colour was their favourite colour, using the sentence skeleton, "Mi color favorito es el / la …. porque…" We had used these sentences orally in class and the children had used bilingual dictionaries to help them end their sentences. They then presented it on coloured paper in the shape of their object.
Andando Por La Selva
One of our Year 5 classes performed "Andando Por La Selva", a short poem we got from Primary Languages Network. The Year 5 children were studying Peru as well so they were able to combine their study of the Peruvian rainforest with their Spanish poetry. The Year 5 area was transformed into a rainforest, complete with sounds and the masks of animals. In reality, this was a gazebo with cargo netting that the children had decorated. We combined this with work on animals other than jungle animals. The children in Year 5 also did some writing based on Paddington Bear who, of course, came from deepest, darkest Peru. In their art lessons, the children had made masks of jungle animals so they were able to use these in the video they made of Andando Por La Selva.
The children created individual flip-top quizzes to see if visitors could guess their animal in a similar style to that of the poem e.g. "Es alta y naranja. Tiene cuatro pies. ¿Qué animal es?" with a picture of the animal and its name in Spanish hidden under a flap. These were presented in a rainbow arrangement.
The Year 5 children also wrote about their own animals and produced simple fact files about their animals. This included what animals they have at home; which animals they like; which animals they dislike and which is their favourite animal. This is something we spent a few weeks on in lessons in class. The children were really proud of their fact files.
La Pequeña Oruga Glotona
With a Year 4 class, we studied the Spanish version of The Very Hungry Caterpillar. This is a great book for learning food, colours, number and days of the week, all areas that we cover in the Year 3 Primary Languages Network scheme of work. The children learnt the story and performed it (see the video here), along with papier mâché fruit (made partly by the children but mainly by teaching assistants).
These papier mâché foods were hung from another gazebo and they had sound buttons attached to them so that people could listen to how the words are pronounced.
The children then wrote their own versions of "La pequeña niña hambrienta" or "El pequeño niño hambriento" in which the children had to write the day of the week, the number and the fruit. The only thing they were given was the word comí but we had discussed the grammar in class. e.g. El lunes, comí cinco peras; el martes, comí cuatro fresas etc.
The Year 4 children were also able to say what their favourite fruit was so we recorded them saying this on recordable speech bubbles and visitors were able to work this out.
Days of the week and months of the year
One of the most interactive parts of the exhibition was in the Year 3 area where visitors were invited to rearrange our polystyrene days of the week letters. Teachers made them all from scratch and the Year 6 children painted them. We timed people to see how long it took to put the letters in order in their troughs. The children love using these in lessons. We had a similar activity for the months of the year but this time, the months of the year were on laminated card rather than being 3D.
Spanish Playground Games
In the spring term, we set up a 'Spanish Playground Games Club' with some of our Year 5 pupils. They learnt some of the games from the '25 Juegos de Patio' DVD, made by PMFL.
Once they had mastered the games, they then wrote instructions in English and taught some of our younger children how to play the games. This was a very popular activity on Spanish Day! The most pleasing thing about introducing these Spanish playground games is that the children have started to play these games during their own break times of their own accord, without encouragement from teachers. It's common to hear "Toma Tomate tomalo" being sung across the playground. The videos of the leaders showing the Year 3s how to play are online on our YouTube channel.
Links with Spanish Schools
We have set up links with two schools in Spain. So far, we have sent letters to one another, sent Christmas and Easter cards to one another, held videoconferences and swapped audio and video files to be used for listening exercises in class. We used some of these to make a display so that visitors to the exhibition could practise listening to authentic Spanish children. This was particularly exciting for those children whose pen pals were chosen! Again, we used recordable speech bubbles and we asked questions about what each of the Spanish children said.
Art
Children in all year groups studied either Spanish artists or artists from Spanish-speaking countries. They then created their own work based on the work of these artists so we had work inspired by Dalí, Gaudí, Picasso and Marta Minujin, an Argentinian artist famous for her fluorescent colours and for being part of her art.
A 40 metre mosaic around the hall and a metre-long 3D iguana
On top of this, every class in the school made a mosaic based on that designed by Gaudí and on show in Parc Guell in Barcelona. We combined each class's mosaics to make an enormous mosaic that went round the whole hall. This was a 40 metre long piece of art! Year 1 made their own Gaudí-inspired mosaic iguana out of modrock.
The carpet of flowers
Being a Catholic school, we have taken a keen interest in the Spanish way of celebrating religious festivals. Every year at Corpus Christi, a flower festival is held in Catalonia during which enormous floral displays fill the streets. We designed our own version with tissue paper and it took pride of place in our art gallery.
Spanish Dance

We are lucky enough to have a teaching assistant who is trained in Spanish dance. During the autumn term, she taught a small group of our Year 5 children how to perform a salsa dance, which they demonstrated on our Spanish launch day in September. This term, she taught them how to cha-cha. Again, they performed for the whole school on our celebratory Spanish Day and they wowed the audience.
I have described about half of our exhibition. I have not even mentioned the fantastic performances and display of El Gigante Hambriento, complete with opening mouth in which visitors posted the food the giant demanded, or Los Tres Cerditos or the whole Year 4 performance of their own salsa routine. Neither have I mentioned the fabulous food and drink freshly made for each day of the three day long exhibition (empanadas, salsa, mojitos!), the Cuban-inspired musical instruments made by Year 4 or the 'messages on a fan' than people took away from the Year 3 area. Neither have I mentioned the wonderful study of Mexican art and culture done by Year 2.
The children and staff were really proud of what they have achieved; it galvanised the staff and gave them confidence to develop Spanish further next year and our parents and wider community were impressed by what was on show. Our exhibition truly was an extravaganza. To see more, watch the videos on our YouTube channel or our Vimeo channel or get in touch with me at school.
The exhibition walk-through is here: Exhibition Walk-through
Paul Phillips
Deputy Headteacher
Our Lady Star of the Sea Catholic Primary School
Ellesmere Port